Towpath Fitness was founded in 2015 and officially opened in January of 2016.  It is dedicated to bringing a broad spectrum of fitness to all its members. It offers a variety of classes and events to keep members engaged in a lifetime of health and fitness. The goals are to have fun, be healthy and build a strong community in and outside our facility.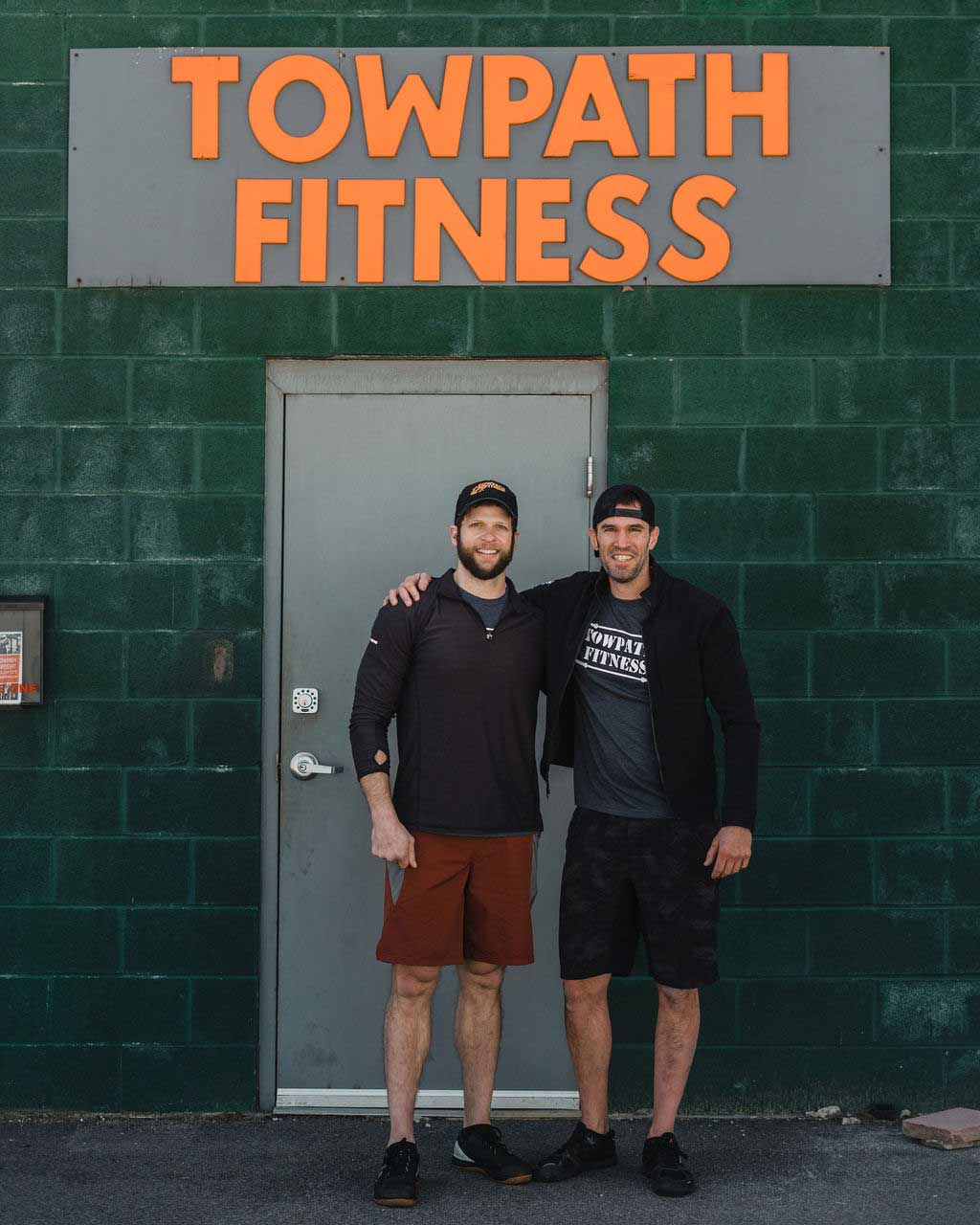 Meet the owners and coaches that make TPF possible!
Evan Middleton
Owner & Coach
Evan has been training in CrossFit since 2012, Coaching since 2013, and is one of the original founders of Towpath Fitness.  He started along his fitness journey while in graduate school at Kent State thanks to his brother, Scott, making him go to the rec center.  After grad school, Scott again pushed Evan into trying CrossFit.  Falling in love it with, after a year he started coaching and 3 years later Scott and Evan opened Towpath Fitness.  It was at a previous CrossFit gym that Evan met his wife Eileen.
When not coaching or working out, Evan puts his fitness to work playing Volleyball (usually with fellow owners Dan and Marnie), running, biking or enjoying a rest day.   Evan's favorite movements are double unders and rowing.   If he could eliminate one movement from existence it would be thrusters.
Outside the world of fitness, Evan has 2 kids (Maximus and Fiona), works a day job as a Human Resources Specialist, and enjoys hobbies such as Jet Skiing, tinkering with technology, LITRPG books and crafting glassware for his side hustle ESQUAREDGLASS.
Dan Fossa
Owner & Head Coach
Coach Fossa's 11 years of diverse experience as a health and fitness personal trainer and coach has allowed him to work with people at all fitness levels, ages and stages of life. Regardless of their experience or skill level of fitness, his main goal has been to bring out the potential of an individual to get them to become their best self. Whether the objective is to improve one's health, overcome an injury, achieve success in sports, or continue to do things they love, growth is always the goal. In addition, Dan has taught K-8 health and physical education full-time for the last 5 years at Old Brooklyn Schools (OBC - Constellations Schools), currently teaching physical education to kindergarten to 4th graders.
What led Dan to CrossFit and why he likes/loves it…
Dan is a graduate of Heidelberg College and John Carroll University where he received a Bachelors of Science Degree in Sports Management – Fitness Concentration and his Master's Degree in Education. Dan attended Aurora High School where he excelled at football and baseball and went on to play Division III football for Heidelberg.
When Coach Fossa is not working or working out for fun, you'll find him spending time playing volleyball, enjoying Cleveland's local restaurants and breweries, festivities and sporting events or on the lake with his wife (and co-Owner), Marnie Randel, friends and family.
Dan's warm and welcoming smile, laugh, dedication to the health and physical improvement of others and positive attitude, among other things make him a great addition to the Towpath Fitness community.
Certifications:
CrossFit Level-1
NASM – CPT
CPR Certified, American Red Cross Association
Eileen Middleton
Coach/ Owner
Eileen has been an athlete since 8 years old when she began running track and cross country. She continued running through college and competed at the college level for Division II school Tiffin University where she earned her Bachelor's and Master's degrees. After college she competed in several half marathons trying to find that same competitive drive and high intensity feeling track and cross country brought into her life. In 2012 she found it again when she dropped in for a CrossFit class at a local box. 
CrossFit forever changed her life. It helped her manage anxiety disorders she had faced her entire life. She learned how to strengthen her entire body with weights and cardio workouts rather than just her legs for running which improved her running. She met an amazing community of friends who helped through the death of her father. She also met her husband Evan. 
In 2019 she became a CF-L1 Coach and began coaching at Towpath. She also knew she wanted to focus on empowering women. It wasn't until after the birth of her first child she realized the dire need for coaching during the pregnancy and postpartum chapters in a woman's life. In 2019 she completed her certification in Pregnancy and Postpartum Athleticism from Brianna Battles and has been coaching pregnant and postpartum athletes ever since. You can find her coaching classes at TPF and one on one sessions with her Pregnant and Postpartum clients.
Jesús "Zeus" Sanchez
Fundamentals Coach
Born in Carolína, Puerto Rico Jesús Sánchez grew up in Lorain, Ohio. He studied Biology at the University of Findlay earning a B.Sc and later obtaining a Master's of Science from John Carroll University. Currently, Jesús is an Outdoor Recreation specialist with Cleveland Metroparks Youth Outdoors program and provides training as well as professional development for environmental, outdoor focused organizations. Jesús is also a husband and father of three kids. He is a motivated, energetic person who understands the importance of health and fitness and how it can be integrated into other aspects of a person's life.
The Crossfit community and the Towpath family continues to inspire and motivate Jesús to remain consistent in a healthy lifestyle. He began his Crossfit journey 8 years and has been a Crossfit coach for 6 years. He enjoys the community aspect of Crossfit as well as the constant physical and mental challenge it brings.
"We cannot become what we need to be, by remaining what we are." Max DePree
Joe joined towpath in 2018 after being dragged to several classes by his wife,  who was already a member. His fitness journey started in childhood with playing
 soccer. He later became a physical training leader and unit fitness program manager while in the airforce. Joe served six years and earned an associates of applied sciences and a bachelor's degree in zoology at the same time. He has worked as a zookeeper for Cleveland Metroparks Zoo since 2017.  Joe earned his CFL1 in January 2021, and is currently finishing a masters in ecology, working on becoming a certified personal trainer and a nutrition coach.  He is excited and motivated to share what he has learned. He looks forward to encouraging and empowering those who fitness does not come naturally to.
Outside of the gym Joe enjoys reading, playing D&D, and being a giant nerd.  He particularly loves sharing fitness with his wife Faith and two teenage daughters. All of whom are towparh members as well.
Coach Eric has been coaching at Towpath Fitness since 2016. Along with being a Crossfit Level 1 coach he is a Birthfit coach coaching prenatal and postpartum fitness classes. Eric has a passion helping others achieve their fitness goals especially through quality foundational movement. He grew up in the Brecksville/Broadview Heights area, graduated from BBH High School, University of Toledo with a Bachelor's in Civil Engineering. In free time Coach Eric enjoys hiking, biking, soccer, and anything active I can do with my two sons.
MJ has been a CrossFit coach for almost 10 years being both a L1 and L2 holder. She has been with Towpath Fitness since it opened in 2016.
Coach Christopher Walker and I've been coaching at Towpath CrossFit since they opened in 2016. I started my play love of sports at Benedictine High School in the wrestling program. I continued wrestling at Ohio Northern University. I learned discipline, and what 6 minutes of all out work can do. After suffering a knee injury my sophomore year, my days of wrestling had to end. I never thought I would find that same workout or feeling after a hard fought match. Many years later my wife and I joined a CrossFit box together. I found that feeling again. How my life has changed for the better since!
I first started CrossFitting in 2011, and quickly decided that I wanted to become a coach. I got my L1 in 2014, followed by my L2 in 2019. During grown up time I am a Field Safety Specialist for a "Heavy Civil and Demolition" company. I've really enjoyed working and watching the TPCF athletes succeed. I coach CrossFit for the joy of seeing someone get their first rope climb, pull-up, double under, or anything they have had to work hard on over time to succeed.
Without my family and all of you, none of these great experiences would have been possible. Thank you all. Especially my wife Cecile' and my children Hanah, Liam, and Addison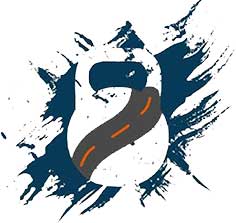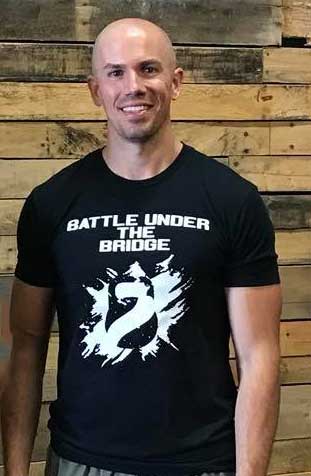 Scott Middleton
Coach Scott was one of the Founders of Towpath Fitness. After almost 5 years of building and running Towpath Fitness, Scott decided to pursue a change in his life by stepping away from the gym. Towpath Fitness would not be what it is today without his hard work and effort.